Stove and Cooktops are essential kitchen appliances because they provide the heat source needed to cook a variety of dishes. Stove and Cooktops made of electronic components are a popular choice among homeowners because they are easy to install and provide precise and consistent temperature control. Electric cooktops offer excellent cooking capabilities to the modern home, whether they are built into a range or stand-alone.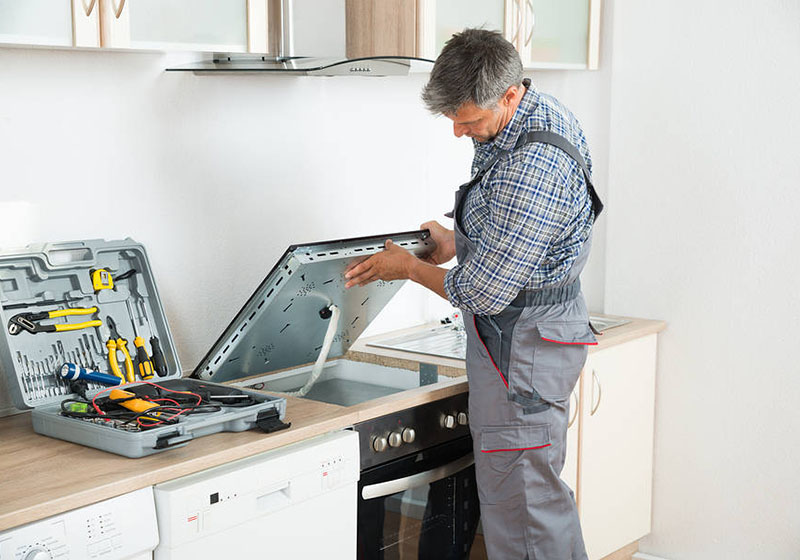 However, electric cooktops can require maintenance and repairs just like any other appliance. Every time you need them, your kitchen appliances should function optimally. Our guide to the most common electric Stove or Cooktops repair problems can help you troubleshoot and resolve issues with your cooktop. In some cases, you can fix these issues yourself, but for the best results, you'll want to contact a professional home appliance repair technician.
No matter what type of cooktop or a stovetop you own as it is one of the most important appliances you possess, so when it fails, you panic. What would you do if your mom's famous chili cannot be made on the stovetop? What can you do when you get home late and want your favorite grilled cheese?
If you think your stove top is broken, don't panic. The majority of common stovetop problems can be solved easily and efficiently, so you can enjoy your late-night snacks.
Here are some tips and tricks on how to fix common stove and cooktop problems
Gas won't light on the burner
If the flame on your gas cooktop just won't come on, there could be several issues at play. In the first instance, note what occurs when you attempt to ignite the burner. If you hear the click but don't smell anything, there's likely an issue with gas flow. If you smell gas but don't hear any clicking, the problem may be related to the ignition switch itself.
Solution – Remove the grate and burner cap from the device, and then turn it off and unplug it if possible. Remove any stray food debris from the area and reconnect any cables that may have become disconnected. If it doesn't work, you'll most likely need to replace the igniter or have some work done on the gas connection. Give us a call, and we'll be happy to assist you in locating new components for your stovetop as well as scheduling any necessary significant repairs.
Having trouble heating up the gas burner
No matter what type of cooktop you have, a cooktop that takes a long time to heat up can become a severe problem. Specifically, with regard to a gas stove, this problem could be caused by material clogging the burner apertures, causing the flames to be small and ineffective. This is something that may be readily remedied by thoroughly cleaning your stovetop and oven.
Solution – The cooktop should be turned off and disconnected before removing the grates and burner caps and soaking in a sink filled with soap and hot water for a thorough cleaning. Using a hard brush, scrub the surfaces clean. Make use of a moist sponge to wipe off the cooktop's surface as well, and use a toothpick to remove any food or other debris that has collected around the gas valves. Baking soda and vinegar can also be used to give your cleaning regimen an extra boost of power.
Electric burners don't heat up
Whether your electric burner is not heating properly, check all of the others to see if they are as well.
Solution – The problem is most likely an electrical one, and you'll need to bring in an expert or repair your stove if all burners are not heating properly. Alternatively, if only one coil is heating incorrectly, check the connection and ensure that the coil itself is firmly plugged into the cooktop itself. Replace the broken coil on your cooktop with another one and see if the new coil works just as well in the same position where the damaged coil was plugged in. If the new coil works just as well, it's time to replace the broken coil on your cooktop.
Stovetop keeps clicking with gas
When you turn on your gas stovetop, some clicking is expected. However, if the clicking persists for an extended period after the burner has been lit or even stops it from lighting, it can become a major problem. If something is blocking the burner, this is the most common cause of the problem. There may be too much moisture trapped in the cooktop if the clicking continues.
Solution – Try wiping down the stovetop with a towel or even directing a fan at the cooking surface to absorb some of the additional water or grease that may have escaped during the cooking process.
Although these common cooktop and stovetop issues can be fixed on your own, we highly recommend calling a professional repair service to get the job done efficiently.
How long do stoves and cooktops last?
Stoves can last for a few years on average, especially since they are expensive and difficult to install. A stove will typically last for 13 to 15 years on average. This varies from model to model and depends on whether it is an electric stove or a gas stove. It will depend on how well you take care of and maintain it over the years and how you use it. The better you take care of something, the longer it will last.
What is the cost of repairing a stove and a cooktop?
To get the most out of your stove, you need to clean it. However, cleaning daily is not sufficient for it to be as long-lasting as feasible. Requesting the services of a professional for maintenance means that the specialists will perform a complete cleaning operation. Before starting any new project, the technician will always perform a complete cleaning, not just of the external and often used parts but also of the internal mechanisms. Aside from that, a test will reveal the state of the mechanical components and the combustion state. Following that, the repair will be assessed. So, how much does a stove repair in Australia typically cost? Typically, a citizen from Australia should anticipate paying anything between AU$ 50 and AU$ 400. On the other hand, commercial stoves might increase the cost by as much as AU$ 500 or more. The repair service cost is determined by the type of stove, its age, and its current condition.
Which is cheaper, repairing or buying a new stove and cooktop? Would it be worth it to repair it?
Stove repair is one of the least expensive types of home appliance repair. The typical cost of repair a stove is between $50 and $200 per appliance. Repair costs are decided by the extent of the damage to your appliance and the number of replacement parts required getting it back up to operating condition. The cost of repairing your appliance can be influenced by your geographic location as well. A homeowner who lives in a city will not pay the exact property tax as a homeowner who lives in a rural location.
If you decide to replace your stove, the cost will be a little more expensive than usual. Depending on its complexity, it will cost between $1000 and $3000 to hire a professional to fix your electric or gas stove. This pricing covers the cost of the appliance and the cost of any installation services that may be required. The price of a new stove is determined by the brand and its features, just as it is with many other appliances.
Based on the estimates provided above, you can see why repairing your faulty stove should be your first line of defence. Only replace your appliance if it has reached an advanced age or if a repair will not be effective in resolving the appliance's problems.
We urge homeowners to have their stoves fixed rather than having them completely replaced. It is the most convenient, least expensive and most comfortable option. To assist you in getting your stove back into working order, we have placed all of our professionals at your disposal, ready to repair your stove whenever you require them.
Our specialists are experienced, verified, and certified appliance repair experts who will be at your home as soon as possible after receiving your call. They will be fully equipped and prepared to provide you with their services. They are available 24/7. No matter what problem your stove is experiencing, they will discover a suitable and economical solution for you.
Final Thoughts
No matter what happens with your stove, we have you covered. We have tens of thousands of satisfied customers and over ten years of experience. When it comes to Adelaide Cooktop Repair, Wise Appliance Service is one of the best. In terms of quality and effectiveness, our professionals can perform warranty repairs on all types and models of cooktops. Our experienced and dependable staff can service any cooktop, including gas, electric coil, induction, downdraft, and smooth electric cooktops. For Adelaide Cooktop and Stove Repair, you can contact our friendly staff who will provide you with free advice and a free quote.
Contact us if you need appliance repair in Adelaide, Australia.